The Seminole Nation Museum, in concert with the Historic Preservation Office of the Seminole Nation of Oklahoma has developed a new exhibition about the famed Mikasuki Academy. The show contains an array of never-before-seen photographs and artifacts relating the story of the Seminole school for boys and provides a glimpse at what life was like at Mikasuki
"Life at Mikasuki – Story of a Sovereign Seminole School" is the theme of the exhibition, which opened at the Seminole Nation Museum in Wewoka Saturday, March 18, 2023. A reception, to which the public was invited, was be hosted from 12 p.m. to 2 p.m. that day. The exhibit will run through June 17th, 2023.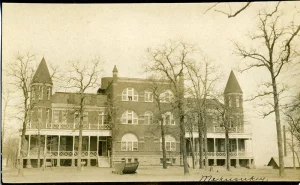 Mikasuki Academy was constructed between 1891 and 1894 approximately three miles south and two miles west of the area that would eventually become the city of Seminole. It was an impressive, three-story structure considered to be a modern marvel of its time. One of the most technologically advanced buildings in Indian territory, it was built at a cost of nearly $65,000.
The structure housed about 100 Seminole and Afro-Seminole male students whose curriculum and care were initially overseen by the leadership of the tribe. In 1906, management of the school was taken over by the US government, turning its operation into that of an off-reservation boarding school such as Carlisle, Haskell or Chilocco. The school closed permanently in 1930 and was later partially destroyed by fire.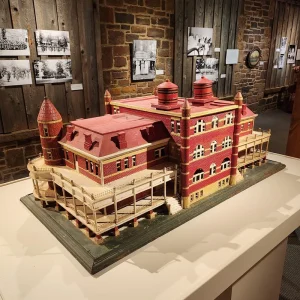 The exhibition uses over 30 large-scale reproductions of early 20th century photographs to chronicle the lives of the school students and the day-to-day operations of the academy and how those things changed over time. Artifacts, such as pieces of silver-plated serving ware, also provide a window into the time period.
The Seminole Nation Historic Preservation Office is dedicated to the preservation of tribal cultural resources and history for the benefit of shared knowledge, unity, and goodwill among those within and beyond the Seminole Nation of Oklahoma. For more information, contact Ted Underwood, Director – Seminole Nation Historic Preservation Office, 405.257.7200 x 9383 or
[email protected]
.
Opened in 1974 in Wewoka, the Seminole Nation Museum serves as a center of stewardship, knowledge, and understanding of the artistic, cultural, and historical achievements of the Seminole Nation of Oklahoma and its capital of Wewoka. For more information about the exhibition or the opening reception, contact Seminole Nation Museum Executive Director Richard Ellwanger at 405-257-5580 or at
[email protected]
.